Table of Contents
Introduction:
Akshay Kumar, the Bollywood megastar known for his versatile acting and action-packed roles, transcends his on-screen charisma and touches hearts through his philanthropy. While earning acclaim for his socially conscious films, Akshay extends his impact offscreen by generously giving back to society and those in need. As an inspiration to millions, he demonstrates the power of using fame and fortune for noble causes. In this article, we will explore the remarkable journey of Akshay Kumar's philanthropy, from Covid-19 relief to supporting farmers, soldiers, and transgender individuals.
Akshay Kumar Philanthropy: Inspiring Millions with Giving Back
As a Bollywood icon with numerous blockbusters to his name, Akshay Kumar has established himself as one of the most influential actors in the industry. However, his impact goes beyond entertaining audiences on the silver screen. Akshay's philanthropic journey showcases a compassionate soul dedicated to making a difference in the lives of those less fortunate.
Covid-19 Relief and Support
When the world was grappling with the devastating effects of the Covid-19 pandemic, Akshay Kumar emerged as a beacon of hope, extending a helping hand to those in need. He was one of the first personalities from Bollywood to contribute to the PM CARES Fund during the initial wave of the pandemic. Akshay donated a staggering Rs. 25 crores to the Prime Minister's Fund, demonstrating his commitment to combating the crisis.
In addition to his contribution to the PM CARES Fund, Akshay donated another crore to ex-cricketer Gautam Gambhir's charity for Covid-19 relief. The actor's philanthropy extended to supporting Gautam Gambhir's foundation, providing much-needed resources to those affected by the novel coronavirus during the deadly second wave.
Flood Relief and Farmer Support
Akshay Kumar's work has extended to aiding regions devastated by natural calamities. During the floods that struck Kerala, Assam, and Chennai, he donated Rs. 1 crore each to support relief efforts in these regions, offering a lifeline to the affected families and communities.
Recognizing the plight of farmers facing severe drought in Maharashtra, Akshay Kumar donated Rs. 90 lakh to assist approximately 180 farmers. His generosity helped alleviate their struggles and offered hope during challenging times.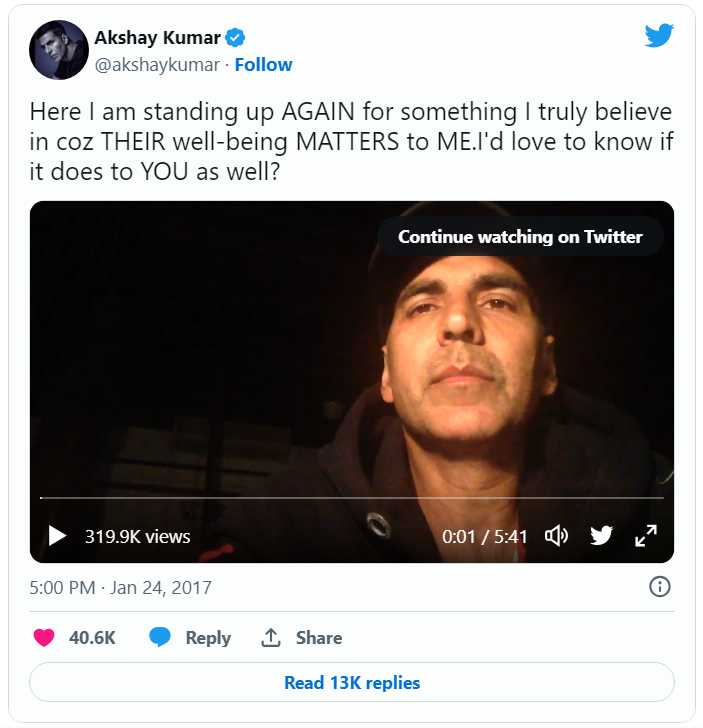 Building a Shelter for Transpersons
In the thought-provoking film "Laxmii," Akshay Kumar portrayed a transgender woman with empathy and compassion. His role in the film inspired real-life philanthropy as he collaborated with the film's director, Raghava Lawrence, to initiate a project providing shelter for transgender individuals. Akshay donated Rs. 1.5 crore towards the construction of this shelter in Chennai, supporting a vulnerable community in need of care and protection.
Insurance Scheme for Stuntmen
As an action-hero renowned for performing his stunts, Akshay Kumar launched an insurance scheme for registered stunt directors in 2017. The scheme provided compensation to the families of stunt directors in case of accidents or untoward incidents during filming. Akshay's concern for the welfare of stuntmen led to the implementation of this beneficial initiative, ensuring financial security for their families.
Concern for Army Men
His philanthropy is not limited to monetary donations; it also reflects his concern for the well-being of army personnel. He expressed his wish to serve the nation through films with patriotic themes, portraying soldiers in films like "Holiday," "Kesari," and "Rustom."
In times of crisis, Akshay has extended support to the families of slain jawans, donating Rs. 1.08 crore to the families of 12 Central Reserve Police Force (CRPF) jawans who lost their lives in Chhattisgarh's Sukma district. He has consistently demonstrated gratitude and admiration for the sacrifices of soldiers, paying tribute to them at various events and occasions.
Auction of Film Costumes
To support various causes, Akshay Kumar has auctioned off film costumes to raise funds for charitable initiatives. He auctioned one of his suits from the film "Oh My God" to raise funds for a school in Mumbai that provides pre-primary education. The proceeds from the auction were directed towards helping underprivileged children receive quality education.
Additionally, Akshay and his co-star Tamannaah Bhatia donated all the clothes from their film "Entertainment" to the Youth Organisation in Defence of Animals (YODA), an organization working for the welfare of street animals. Akshay's contributions exemplify the belief that no act of giving is too small, and each gesture can create a positive impact.
Helping out Individuals
Akshay Kumar's philanthropy extends to providing direct assistance to individuals facing challenges in their lives. He helped a contestant from the TV reality show "Khatron Ke Khiladi" by providing Rs. 25 lakh for his father's cancer treatment, showcasing his empathy and support for those in need.
Furthermore, Akshay came to the aid of acid attack survivor Laxmi Agarwal by transferring Rs. 5 lakh into her account to help her during a difficult phase in her life. His thoughtful gesture eased her financial burden and allowed her to focus on finding employment and rebuilding her life.
Menstrual Hygiene and Sanitation
Through his films "Toilet: Ek Prem Katha" and "Pad Man," Akshay Kumar has advocated for menstrual hygiene and sanitation, addressing the stigma around menstruation. He has been a vocal advocate for menstrual hygiene to receive the same attention as household sanitation under the Swachh Bharat scheme.
On International Women's Day, Akshay flagged off the 'Run4Niine' marathon in Hyderabad, aiming to break the taboos surrounding menstruation and encourage open discussions on this vital subject. His efforts highlight the importance of promoting awareness and empathy towards women's health.
Conclusion:
Akshay Kumar's philanthropy journey is a shining example of how a superstar can use their fame and resources to make a significant impact on society. His compassionate initiatives span across various causes, from Covid-19 relief and supporting soldiers to aiding farmers, transpersons, and underprivileged individuals. Akshay's dedication to giving back has inspired millions to join him in making the world a better place. As he continues to champion social causes and lend a helping hand, Akshay Kumar proves that being a real-life hero is as important as being a reel hero.