Table of Contents
Introduction of Akshay Kumar
Akshay Kumar, born Rajiv Hari Om Bhatia on September 9, 1967, is a highly acclaimed actor and film producer hailing from India, who later became a naturalized Canadian citizen. With a career spanning over three decades, Kumar has left an indelible mark on Hindi cinema, appearing in more than 100 films and earning numerous accolades, including two National Film Awards and two Filmfare Awards. His outstanding contributions to the entertainment industry were recognized by the Indian government when he was awarded the prestigious Padma Shri in 2009.
Kumar's journey began in 1991 with the film "Saugandh," but it was his action thriller "Khiladi" in 1992 that catapulted him to fame as an action star. He went on to star in multiple films of the "Khiladi" series, solidifying his position as one of the prominent action heroes of the 1990s. However, he didn't restrict himself to one genre and expanded his repertoire to encompass romance, comedy, and socially relevant films.
In the early 2000s, Kumar gained recognition for his romantic roles in movies like "Dhadkan," "Andaaz," and "Namastey London." Simultaneously, he delivered memorable comic performances in films like "Hera Pheri," "Mujhse Shaadi Karogi," and "Phir Hera Pheri." His versatility was further highlighted when he received Filmfare Awards for both his negative role in "Ajnabee" and his comic performance in "Garam Masala."
While his career experienced fluctuations in commercial success, Kumar's star soared once again in 2007, with a string of box-office hits. He continued to impress with critically acclaimed performances in movies like "Special 26," "Baby," and "Airlift," earning him the National Film Award for Best Actor for "Rustom."
Beyond his acting prowess, Kumar has ventured into television, hosting shows like "Fear Factor: Khatron Ke Khiladi" and "Dare 2 Dance." He is also a keen supporter of philanthropic endeavors, championing various charitable causes and setting up martial arts training schools for women's safety.
In 2011, Kumar acquired Canadian citizenship through a special law, in exchange for his commitment to bolstering Canada-India relations and contributing to the trade and tourism sectors. Despite his Canadian citizenship, he remains a beloved and influential figure in India, known for his endorsements and brand ambassadorships.
Akshay Kumar's incredible journey as an actor, philanthropist, and cultural ambassador has left an indelible impact on both the Indian and Canadian entertainment industries. His dedication to his craft, social initiatives, and commitment to building stronger ties between nations make him a true icon on and off-screen.
The Early Life and Background of Akshay Kumar: A Glimpse into the Making of a Bollywood Superstar
Akshay Kumar's early life in Amritsar, Punjab, was marked by a deep interest in sports, influenced by his father's passion for wrestling. Growing up in Delhi's Chandni Chowk, he later moved to Mumbai when his father transitioned from an army officer to an accountant with UNICEF. Embracing his love for martial arts, Kumar pursued further training in Thailand, immersing himself in Thai Boxing for five years.
Despite his martial arts prowess, Kumar's aspirations shifted towards acting. After obtaining a black belt in Taekwondo in India, he worked odd jobs in Bangkok, Kolkata, and Dhaka, gaining diverse experiences and refining his skills. Returning to Mumbai, he taught martial arts before venturing into modelling. A recommendation from a student's father led him to his first modelling assignment, where he quickly realized the potential of this new career path.
Kumar's dedication and perseverance paid off as he transitioned from being a background dancer to securing a lead role in the movie "Deedar," thanks to producer Pramod Chakravarthy's faith in his potential. This marked the beginning of Kumar's illustrious journey as a Bollywood actor, paving the way for his remarkable rise to stardom in the Indian film industry.
The Rise to Stardom: Akshay Kumar's Journey in the 1990s Film Industry
The 1990s marked a crucial period in Akshay Kumar's film career, where he navigated through successes, breakthroughs, and setbacks, eventually establishing himself as one of the most prominent actors in the industry.
In 1991, Kumar took his first steps as a lead actor in the film "Saugandh" alongside Raakhee and Shantipriya. While his initial films received mixed reviews, it was the Abbas Mustan-directed suspense thriller "Khiladi" in 1992 that served as his breakthrough role. The film's success catapulted Kumar to fame, earning him praise for his physical appearance, screen presence, and commendable performance.
Throughout 1993, Kumar appeared in several films, but commercial success eluded him. It was in 1994 that he proved his mettle with an impressive lineup of 11 feature films. Notably, his roles in "Main Khiladi Tu Anari," "Mohra," and "Yeh Dillagi" garnered critical acclaim and box office success. "Yeh Dillagi," in particular, solidified his position as a reliable and successful actor.
The "Khiladi" series further contributed to Kumar's rising stardom. He starred in the action thrillers "Sabse Bada Khiladi" and "Khiladiyon Ka Khiladi," both of which achieved commercial success. His portrayal of a dual role in "Khiladiyon Ka Khiladi" further showcased his versatility as an actor.
In 1997, Kumar received accolades for his supporting role in "Dil To Pagal Hai" and continued his association with the "Khiladi" series in "Mr. and Mrs. Khiladi." While "Mr. and Mrs. Khiladi" did not fare well commercially, Kumar's performance in the romantic action film "Aflatoon" earned critical appreciation.
Despite some commercial setbacks, Kumar made a significant comeback with the romantic thriller "Jaanwar" in 1999. The film's success reaffirmed his status as a bankable actor and showcased his ability to deliver powerful performances.
As the 1990s drew to a close, Akshay Kumar had firmly established himself as a versatile and successful actor in the film industry. His journey through this decade set the stage for even greater achievements and paved the way for an illustrious career that would continue to captivate audiences in the years to come.
The Comedy and Romantic Era: Akshay Kumar's Triumph in the 2000s
The 2000s marked a transformative phase in Akshay Kumar's career as he ventured into comedy and romantic genres, solidifying his position as a versatile actor and box office magnet.
In 2000, Kumar's career took a significant turn with the Priyadarshan-directed comedy "Hera Pheri," alongside Paresh Rawal and Suneil Shetty. The film, a remake of the Malayalam film "Ramji Rao Speaking," proved to be a commercial success and showcased Kumar's flair for comedic timing. Following this, he delivered a compelling performance in the romantic drama "Dhadkan," earning praise from critics for his acting prowess.
His dedication to performing his own stunts was evident in the action thriller "Khiladi 420," where he fearlessly took on daring feats, earning both admiration and mixed reviews for his dual role in the film. In 2001, Kumar portrayed diverse characters, impressing audiences with his negative role in "Ajnabee," for which he received accolades and awards, including his first Filmfare Award for Best Villain.
The year 2002 saw Kumar playing a blind man in the critically acclaimed heist film "Aankhen," solidifying his reputation as a versatile actor capable of taking on challenging roles. However, not all his films during this period were met with equal success, as some faced commercial setbacks.
Nevertheless, Kumar bounced back with a string of successes, including the romantic drama "Andaaz," which marked the first universal hit of 2003. He further proved his mettle with the action drama thriller "Khakee," earning praise for his role as a corrupt cop on a redemption journey.
The year 2004 brought both critical acclaim and commercial triumphs for Kumar, particularly in the romantic comedy "Mujhse Shaadi Karogi," where he showcased impeccable comic timing and earned his second Filmfare Award, this time for Best Comedian.
Kumar's versatility was once again evident in the romantic drama "Bewafaa" in 2005, where he portrayed a musician pursuing his love interest, earning praise for his performance. Additionally, films like "Waqt: The Race Against Time" and "Garam Masala" solidified his status as a crowd-puller and a sought-after comedian.
In 2006, the sequel "Phir Hera Pheri" continued Kumar's winning streak at the box office, cementing his reputation as the king of comedy. Although "Jaan-E-Mann" didn't meet commercial expectations, Kumar's portrayal of a lovable nerd was well-received by critics.
As the 2000s came to a close, Akshay Kumar had successfully transitioned into the realm of comedy and romantic films, captivating audiences with his versatile performances and exceptional comedic timing. His star power and ability to resonate with the masses made him a dominant force in the Bollywood film industry, setting the stage for even greater accomplishments in the years ahead.
Commercial Success and Challenges: Akshay Kumar's Journey from 2007 to 2011
The period from 2007 to 2011 was a rollercoaster ride for Akshay Kumar, marked by remarkable commercial successes and some professional setbacks.
In 2007, Kumar experienced what is often considered the most successful year of his career. He started with the critically and commercially acclaimed film "Namastey London," where his exceptional performance garnered him a Best Actor nomination at the Filmfare Awards. The chemistry he shared with Katrina Kaif was also highly appreciated. Following this, he delivered back-to-back hits with "Heyy Babyy," "Bhool Bhulaiyaa," and "Welcome," solidifying his position as one of Bollywood's most bankable stars.
2008 began with the action thriller "Tashan," marking his comeback to the Yash Raj Films banner. Though highly anticipated, the film didn't perform as well as expected at the box office. However, he quickly bounced back with the blockbuster "Singh Is Kinng," which broke previous records for first-week worldwide collections.
In 2009, Kumar faced some professional setbacks with films like "Chandni Chowk to China," "8 x 10 Tasveer," and "Kambakkht Ishq," which received mixed to negative reviews and failed to leave a significant mark at the box office. However, his film "Blue" managed to earn some revenue despite facing criticism.
Kumar continued his diverse film choices in 2010 with movies like "Housefull," which enjoyed massive success at the box office and marked one of the highest opening weekends at the time. However, films like "Khatta Meetha" and "Action Replayy" received mixed reviews and had a moderate impact on the box office.
In 2011, Kumar starred in films like "Patiala House," "Thank You," and "Desi Boyz." While some of these films did reasonably well, others faced criticism and were met with a lukewarm response.
Beyond acting, Kumar also ventured into film production, co-producing "Breakaway" (also known as "Speedy Singhs") with Russell Peters. The film achieved success in Canada, becoming the highest-grossing cross-cultural movie in the country for 2011.
Additionally, Kumar lent his voice to the Hindi version of "Transformers: Dark of the Moon" as Optimus Prime, a gesture he made for the love of his son.
Despite the occasional professional setbacks, Akshay Kumar remained a prominent figure in Bollywood, known for his versatility and dedication to his craft. His continued success and commitment to both his acting and production endeavors showcased his enduring influence in the Indian film industry.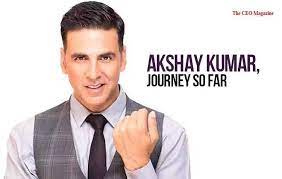 Resurgence in 2012: Akshay Kumar's Blockbusters and Production Endeavors
In 2012, Akshay Kumar experienced a remarkable resurgence with back-to-back blockbusters and further ventures into film production.
His first release of the year was "Housefull 2," the sequel to his earlier comedy film "Housefull." The movie was a smashing success, receiving a "Superhit" status at the box office. Following this, Kumar starred in the Prabhudeva-directed action drama "Rowdy Rathore," where he played a double role opposite Sonakshi Sinha. The film surpassed ₹1.3 billion (US$24.33 million) in India, earning a "Blockbuster" designation. Both "Housefull 2" and "Rowdy Rathore" crossed the ₹1 billion (US$18.71 million) mark in box office collections, solidifying Kumar's position as one of Bollywood's top actors.
During this time, Akshay Kumar took a significant step in his career by founding another production company called Grazing Goat Pictures Pvt Ltd, showcasing his continued interest in film production.
"Joker" was initially promoted as Kumar's 100th film, but he clarified that this milestone had been surpassed long before he signed up for the movie. He pointed out that "OMG" (Oh My God) was, in fact, his 116th film. There were reported differences with the film's director, Shirish Kunder, leading Kumar to distance himself from the film's promotion.
However, "OMG" turned out to be a success, thanks to positive word of mouth and strong audience support. Kumar produced and starred in the film alongside Paresh Rawal.
His final release in 2012 was "Khiladi 786," the eighth installment in his renowned "Khiladi" series, marking the comeback of the series after 12 years. Despite facing criticism from critics, the film performed well at the domestic box office, grossing ₹700 million.
Overall, 2012 was a significant year for Akshay Kumar, with a series of box office hits, a successful foray into film production, and the reaffirmation of his position as one of Bollywood's leading actors.
2013–Present: Critical and Commercial Success
In the years following 2013, Akshay Kumar continued to enjoy critical and commercial success with a diverse range of films.
In 2013, his first release was "Special Chabbis," which received positive reviews from critics and was moderately successful at the box office. Though it was appreciated for its content and Kumar's performance, some analysts felt it had the potential for even better business. He then played the character of Shoaib Khan (based on Dawood Ibrahim) in "Once Upon ay Time in Mumbai Dobaara!" The film received mixed reviews and was deemed a "flop" at the box office, but Kumar's acting was highly praised by critics and even earned admiration from legendary actor Al Pacino.
In 2014, Kumar had a strong comeback with the action drama "Holiday: A Soldier Is Never Off Duty," which was a remake of the Tamil film "Thuppakki." The film received critical acclaim and was a commercial success, becoming the highest-grossing film of the year.
Over the next few years, Akshay starred in various successful films, including "Baby," "Gabbar is Back," and "Brothers." In 2016, he delivered outstanding performances in "Airlift" and "Rustom," both of which earned him the National Film Award for Best Actor.
He continued his streak of socially relevant films with "Toilet: Ek Prem Katha" in 2017, which shed light on the issue of sanitation in India. The movie received widespread praise, and Indian Prime Minister Narendra Modi commended its message of cleanliness.
In 2018, Akshay Kumar appeared in "Pad Man," a film that addressed menstrual hygiene, and also made his Tamil cinema debut in the sci-fi thriller "2.0" alongside Rajinikanth.
In 2019, he starred in "Kesari," a film based on the Battle of Saragarhi, which was well-received by both audiences and critics. He also appeared in "Mission Mangal," a film that showcased the contributions of scientists at the Indian Space Research Organisation (ISRO) to the Mars Orbiter Mission.
Throughout 2020 and 2021, Akshay continued to impress with films like "Laxmii," "Bell Bottom," and "Atrangi Re."
However, 2022 proved to be a challenging year for him, as films like "Bachchhan Paandey," "Samrat Prithviraj," "Rakshabandhan," and "Cuttputlli" received mixed or negative reviews and didn't perform well at the box office.
Despite some setbacks, Akshay Kumar remains a prominent and respected figure in the Indian film industry. He has numerous projects lined up for release in 2023 and beyond, showcasing his commitment to diverse and engaging storytelling.
Akshay Kumar's Personal Life: A Glimpse into the Man Behind the Spotlight
Akshay Kumar, the renowned Bollywood actor, is not just a star on the silver screen. Behind the glitz and glamour, he leads a fascinating personal life that reflects his values, choices, and relationships. Let's take a closer look at the man behind the spotlight.
A Strong Foundation: Marriage and Parenthood
In 2001, Akshay Kumar tied the knot with Twinkle Khanna, the daughter of legendary actors Rajesh Khanna and Dimple Kapadia. Their union brought together two prominent families in the film industry. Together, they have been blessed with a son and a daughter, who remain shielded from the prying eyes of the media. Akshay, known for being a protective father, strives to provide his children with a sense of normalcy and a childhood away from the spotlight.
Controversies and Growth
Like any public figure, Akshay Kumar has faced his fair share of controversies. In 2009, during a show for Levis at Lakme Fashion Week, an incident unfolded when he asked Twinkle to unbutton his jeans on stage. This led to a legal case and media scrutiny. While controversies are part of a celebrity's journey, Akshay's personal growth and ability to overcome challenges have defined him as a resilient individual.
Evolving Spiritual Beliefs
For a long time, Akshay Kumar was a devout Shaiva Hindu, regularly visiting temples and shrines across the country, including the revered Vaishno Devi Mandir. However, in March 2020, he made a significant revelation about his spiritual beliefs. He publicly declared, "I don't believe in any religion. I only believe in being Indian." This statement marked a shift in his perspective, emphasizing a broader sense of national identity and unity rather than adhering to any specific religious affiliation.
Striving for Change: Citizenship Journey
Akshay Kumar's personal journey extends beyond his career and family. Sometime around or after the 2011 Canadian federal election, he was granted Canadian citizenship through a unique provision that waived the usual residency requirement. The citizenship was reportedly awarded in recognition of his potential to foster Canada-India relations in various sectors. However, in December 2019, Akshay expressed his intention to apply for an Indian passport and renounce his Canadian citizenship, underscoring his commitment to his Indian roots.
Akshay Kumar's personal life offers glimpses into the complexities of his character. While controversies and transformations shape his journey, his devotion to family, evolving spiritual beliefs, and commitment to his homeland reflect his growth as an individual. Beyond his on-screen performances, it is these facets that make Akshay Kumar a multi-dimensional personality worth exploring.
Akshay Kumar's Journey in Television: From Action to Entertainment
Akshay Kumar, known for his versatile roles in Bollywood, has also left his mark on the television industry with a series of captivating shows. Let's explore his television journey and the impact he has made on the small screen.
Seven Deadly Arts with Akshay Kumar
In 2004, Akshay Kumar took the television audience on an enthralling journey with the seven-part miniseries "Seven Deadly Arts with Akshay Kumar." In this show, he delved into various martial arts disciplines, including kalaripayattu, Shaolin Kung Fu, karate, taekwondo, aikido, Muay Thai, and capoeira. His passion for martial arts and his role as both a master and a learner captivated viewers. The show aired on Sundays and garnered widespread praise.
Fear Factor: Khatron Ke Khiladi
Since 2008, Akshay Kumar has been the driving force behind India's stunt/action reality game show, "Fear Factor: Khatron Ke Khiladi." Hosting Season 1, Season 2, and Season 4, he brought thrilling challenges to the participants and viewers alike. The show's success in popular culture remains significant, and it continues to be a hit, now hosted by Rohit Shetty.
MasterChef India
In 2011, Akshay Kumar took on the role of host for India's first "MasterChef" television show on Star Plus. With a viewership of 18.2 million, the show proved that Indian audiences are open to experimentation and innovation in television entertainment. His presence added charisma and excitement to the culinary competition.
Dare 2 Dance
In 2014, Akshay Kumar brought another unique concept to television with "Dare 2 Dance." In this reality show, renowned dancers were not only judged based on their performances but also had to showcase their abilities to perform daring stunts on the dance floor. This blend of dance and daring stunts made the show stand out and captivated audiences.
Successful Television Production
Not only a charismatic host, but Akshay Kumar also made a mark as a successful television producer. His show "Jamai Raja" (2014), starring Ravi Dubey and Nia Sharma, established them as leading actors in the Indian television industry.
The Great Indian Laughter Challenge
In 2017, Akshay Kumar lent his judging expertise to "The Great Indian Laughter Challenge," alongside other talented comedians. The show became a platform for aspiring comedians, giving rise to popular names like Vishwash Chauhan and Shyam Rangeela.
Into The Wild with Bear Grylls
Akshay Kumar's adventurous spirit led him to join Bear Grylls for an episode of "Into The Wild." The episode, aired on Discovery Channel, garnered immense popularity, becoming the second highest-rated show in the infotainment genre (Discovery Channel) in terms of TRP. With over 1.1 crore viewers for the premiere, Akshay's appearance showcased his determination and love for exploring the wild.
From thrilling stunts to culinary delights, Akshay Kumar's television journey has been an exciting ride for audiences across the country. His charm, passion, and versatility have undoubtedly left an indelible mark on the television industry.
Fitness, and Charitable Endeavors: Akshay Kumar's Multifaceted Persona
Akshay Kumar is not only a Bollywood superstar but also an ardent advocate for health and fitness. His commitment to staying in shape is evident in his diverse workout regimen, which includes kickboxing, basketball, swimming, and Parkour. His passion for martial arts began during his school days when he started practicing Karate. In fact, he even had plans to open a martial arts school, for which the Maharashtra government allotted land in Bhayandar.
Beyond his dedication to fitness, Akshay plays an essential role in supporting his wife Twinkle Khanna's creative pursuits. He assisted her with editing the drafts of her debut book, "Mrs Funnybones," showcasing their strong bond as a couple.
Despite being associated with a liquor brand in the past, Akshay Kumar remains a teetotaler. He has also demonstrated his philanthropic side, allocating half of his earnings from endorsements for charitable purposes. In recent times, he has been increasingly involved in charitable endeavors, exemplifying his commitment to giving back to society.
Akshay's popularity among fans is immense, evident in heartwarming incidents like one fan's 42-day journey from Haryana to Mumbai just to meet him. Such encounters highlight the deep connection he shares with his admirers.
Moreover, Akshay Kumar has used his influence to support and praise the Sports Minister, Rajyavardhan Singh Rathore, for his stand against corruption in sports. The government's commitment to investigating corrupt officials in the sports department garnered Akshay's appreciation and backing.
On a lighter note, Akshay's talents extend beyond the realm of cinema, as demonstrated by his exhilarating live shows. On 9th August 2014, he marked his 500th live show at the O2 Arena in London during the inaugural function of the World Kabaddi League. From performing stunts to entertaining the audience, Akshay's live shows are a testament to his versatility and dedication to his craft.
In summary, Akshay Kumar is much more than just a Bollywood icon. His commitment to fitness, family, philanthropy, and live performances showcases his multifaceted persona. His journey as a teetotaler, a fitness enthusiast, and a generous philanthropist exemplifies his impact both on and off-screen.
Akshay Kumar: A Phenomenon in Indian Media
In the Indian media, Akshay Kumar is fondly known as "Khiladi" or "Khiladi Kumar" due to his fearless pursuit of dangerous stunts, as well as his iconic Khiladi film series. His international fan following prompted Madame Tussauds to consider creating his wax figure, but he humbly declined, stating that it wasn't of great importance to him.
His impact on the entertainment industry is undeniable, with consistent appearances on Forbes' highest-paid actors lists since 2015. In 2019, he ranked as the fourth highest-paid actor globally, a testament to his widespread popularity and success.
Acknowledged for his charm and talent, Akshay Kumar has received numerous accolades, including being named "Sexiest Man Alive" by People Magazine in 2008. He was also honored with the prestigious "Katana" and a sixth-degree Black Belt in Kuyukai Gojuryu Karate, making him a remarkable martial artist.
Kumar's brand value is immense, and he enjoys strong credibility in the advertising world. Topping the list in 2020 with a brand value of $118 million, he has endorsed various brands, showcasing his influence and market appeal.
With a massive fan following worldwide, especially in the Indian diaspora and European and African countries, Akshay Kumar is the most followed Indian actor on social media. Memes featuring his comedy movie expressions are widely popular on various platforms.
Beyond his entertainment career, Kumar's philanthropy and civic responsibility are noteworthy. He consistently ranks as the highest advance taxpayer in the Hindi film industry and received recognition from the Income Tax department for being the highest tax payer.
Known for his candid nature, Akshay Kumar has criticized award functions, asserting that he doesn't believe in them. However, he highly regards the National Film Award as the most prestigious honor in the country.
In addition to his remarkable achievements, Kumar holds the Guinness World Record for taking the most selfies in three minutes at a promotional event for his film "Selfiee."
Recently, Akshay Kumar embarked on "The Entertainers" tour in the United States, where he captivated audiences with his exceptional performances alongside other talented stars. His journey continues to inspire and leave an indelible mark on the Indian entertainment industry and beyond.
Akshay Kumar: The Philanthropic Force
Beyond his stardom, Akshay Kumar is known for his remarkable philanthropic endeavors and social service. His generosity extends to various causes, touching the lives of many in need.
In partnership with his co-star Tamannaah Bhatia, Kumar donated all the clothes from their film "Entertainment" to the Youth Organisation in Defence of Animals (YODA), an animal welfare charity. He also contributed ₹5 million to Salman Khan's Being Human Foundation, showing his commitment to making a positive impact on society.
During a TV reality show, "Khatron Ke Khiladi," Kumar selflessly gave ₹25 lakh to a contestant who needed the prize money for his father's cancer treatment. Additionally, he donated ₹5 million to aid drought-affected individuals through the Maharashtra government's Jalyukt Shivar Abhiyan.
His compassion extends to supporting the welfare of soldiers and their families. He donated ₹1.08 crore to the families of 12 slain jawans of the Central Reserve Police Force (CRPF) and contributed ₹80 lakh to the families of army men in need. Furthermore, Kumar pledged ₹1.5 crore to build a shelter for transgender individuals in Chennai, continuing his efforts to empower marginalized communities.
Passionate about promoting sanitation and cleanliness, Kumar actively endorses the Swachh Bharat Mission. He has also been involved in building toilets in Madhya Pradesh, emphasizing the importance of individual toilets for every household.
In a noteworthy initiative, Kumar launched the Bharat Ke Veer app, which enables people to send financial support directly to the bank accounts of the families of soldiers martyred in the line of duty. His dedication to assisting these families and contributing to national causes is commendable.
Throughout the COVID-19 pandemic, Kumar has been at the forefront of relief efforts. He donated ₹25 crore to the PM CARES Fund during the first wave and continued to help during the second wave by contributing ₹1 crore to Gautam Gambhir's foundation. His compassion extended to providing support to those affected by floods in Kerala, Assam, and Chennai, donating ₹1 crore to each state.
Akshay Kumar's philanthropy showcases his commitment to being a responsible citizen, using his influence and resources to make a difference in the lives of those in need. His acts of kindness and dedication to social causes continue to inspire and uplift many across the nation.
Awards and Accolades of Akshay kumar
Akshay Kumar's exceptional talent and contributions to Indian cinema have garnered him numerous awards and accolades.
He has received two Filmfare Awards out of 13 nominations. In 2002, he won the Best Villain award for his impressive performance in "Ajnabee," and in 2006, he bagged the Best Comedian award for "Garam Masala." Additionally, Kumar's remarkable portrayals in "Rustom" and "Airlift" earned him the prestigious National Film Award for Best Actor in 2016.
The University of Windsor recognized his remarkable achievements in the film industry by conferring him an honorary Doctorate of Law in 2008. The Government of India honored him with the Padma Shri in 2009, acknowledging his significant contributions to the field of arts and entertainment.
In 2011, The Asian Awards celebrated Kumar's outstanding achievements in the world of cinema, further solidifying his position as one of the most celebrated actors in Indian cinema.
Through his remarkable performances and dedication to his craft, Akshay Kumar continues to earn recognition and appreciation, leaving an indelible mark on the Indian film industry.