Table of Contents
Balakrishna Movie
Nandamuri Balakrishna, also known as Balayya, is set to grace the big screen in the highly-anticipated action drama "Bhagavanth Kesari." Directed by the successful filmmaker Anil Ravipudi, the film stars the powerhouse actor Balakrishna and the talented Kajal Aggarwal as the lead pair. The project has garnered massive attention from the audience, and now, the makers have announced the completion of the shooting at a rapid pace. To add to the excitement, they have unveiled a powerful poster featuring Balayya and shared a crucial update regarding the movie's release date.
Balakrishna Movie – Bhagavanth Kesari
The poster release has created quite a buzz among fans, as it offers a glimpse of Balayya's intense look in the film. The combination of Nandamuri Balakrishna and director Anil Ravipudi has ignited high expectations for this film, and the makers have been leaving no stone unturned in building anticipation. The movie is being produced by Sahu Garapati and Harish Peddi under the banner of Shine Screens, ensuring the presence of top-notch talents both on and off-screen.
As the release date approaches, fans are eagerly waiting for further updates, and the makers are obliging by sharing thrilling teasers and updates from time to time. The movie's title and the first look of the main cast, along with a captivating teaser, have already garnered significant attention and left the audience wanting more. With the film being shot at a fast pace, it's clear that the team is dedicated to delivering an unforgettable cinematic experience.
Balakrishna Movie – Bhagavantha Kesari Poster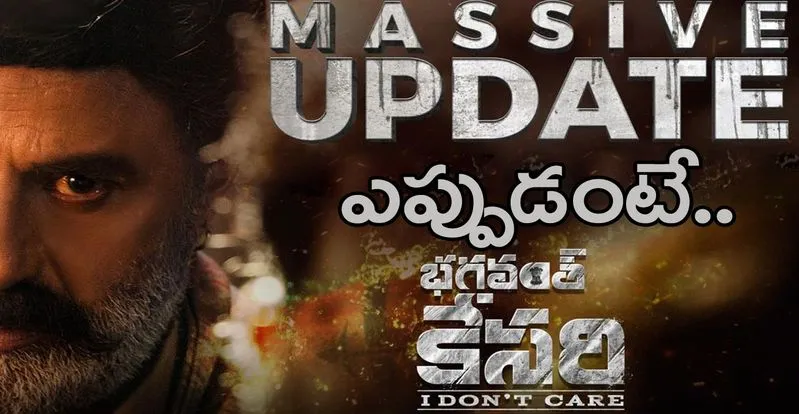 The recently released poster, captioned as 'Gee Musuru Salilo Manta Like Muchachta' (Bhagavanth Kesari Massive Update), indicates that the upcoming update will surely ignite excitement among the audience. With the poster showcasing only half of Balayya's look in a serious demeanor, it hints at a fiery and intense revelation. Adding to the intrigue, the film features the talented Kajal Aggarwal as the lead opposite Balakrishna and introduces the Tollywood crush Srileela in a pivotal role. To intensify the drama, Bollywood actor Arjun Rampal has been cast as the villain.
The teaser released earlier to celebrate Balayya's birthday received an overwhelming response, setting the bar high for the movie's upcoming updates. As the clock ticks closer to the much-anticipated release date, Nandamuri fans are eagerly awaiting the big reveal.
In conclusion, the film "Bhagavanth Kesari" promises to be a grand spectacle, featuring the powerhouse performer Nandamuri Balakrishna in a mass action avatar. Director Anil Ravipudi, known for delivering high-octane entertainment, is at the helm of this project, further elevating expectations. With Kajal Aggarwal adding her charm to the film and a talented ensemble cast, this action-packed drama is set to capture hearts and leave a lasting impact on the audience. As the release date, October 19, inches closer, the excitement continues to build, and fans eagerly await the magic that "Bhagavanth Kesari" is sure to unfold on the big screen.