Table of Contents
Ranveer Singh's Fashion: Unapologetically Bold and Iconic
Ranveer Singh, a powerhouse of talent in Bollywood, is equally celebrated for his bold and unconventional fashion choices. The actor's massive fanbase eagerly anticipates his public appearances, knowing that he will deliver major fashion goals with his out-of-the-box outfits. Embracing his individuality, Ranveer leaves no stone unturned in garnering praises for his unique style, proving that he's not afraid to stand out in the crowd.
Amitabh Bachchan's Hilarious Comment on Ranveer's Outfit
At an IIMUN event, Ranveer Singh recounted a hilarious incident involving the legendary actor Amitabh Bachchan. The actor shared that he once wore an expensive suit, thinking it was the best in the world, and sought Big B's opinion. In response, Amitabh teasingly referred to him as a 'plant,' leaving Ranveer and the audience in laughter. This lighthearted exchange between the two icons showcased their camaraderie and the playfulness of Amitabh's wit.
Ranveer's Fashion Evolution and Embracing Individuality
Despite being the target of humorous comments, Ranveer Singh has grown into a self-assured fashion icon. During a Q&A session with fans, he revealed that he used to feel cagey about expressing himself due to the fear of judgment. However, he eventually shed this inhibitive mindset, understanding that people would judge regardless. The actor now proudly embraces his unique sense of style, confidently dressing the way he wants to, without letting judgment affect him.
Showstopper Moment: Ranveer's Dapper Appearance at Manish Malhotra's Show
Ranveer Singh has made a lasting impression on the fashion world, not only with his everyday looks but also with his show-stopping appearances. At Manish Malhotra's bridal couture show, the actor exuded elegance and charm as he walked the ramp. Donning a white flared kurta and pyjama, adorned with a glittery jacket, Ranveer's outfit was a perfect blend of regal and contemporary. His choice of diamond earrings added a touch of sophistication to his overall look, making him the center of attention.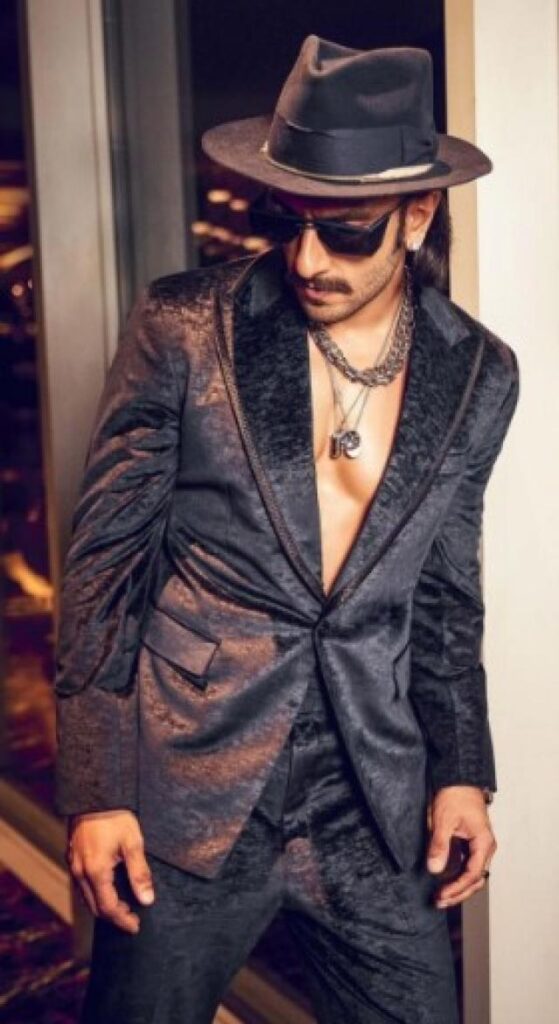 A Gentleman's Gesture: Ranveer's Heartwarming Moment with Deepika Padukone
In addition to his impeccable style, Ranveer Singh's gentlemanly demeanor shines through. During the same show, as he gracefully walked the ramp, Ranveer's eyes lit up as soon as he spotted his wife, Deepika Padukone, and his mother in the audience. In a touching moment, he paused, showered Deepika with a loving peck, and respectfully touched his mother's feet. This heartfelt gesture won the hearts of the audience and showcased the actor's warmth and love for his family.
In conclusion, Ranveer Singh's fashion journey is a testament to his fearlessness and individuality. From amusing encounters with Amitabh Bachchan to his captivating showstopper moments, Ranveer continues to leave an indelible mark in the fashion industry. His unwavering confidence in embracing his unique style inspires fans to be unapologetically themselves. With every public appearance, Ranveer sets new fashion trends, proving that he's not just an incredible actor but also a style icon with a heart of gold.